W
hy is it important to know how to find all subdomains of a domain? As your business grows, there will be occasions when you will have multiple web application setups on various subdomains. Having too many subdomains is not the problem. However, you should have complete information about how and why they are created. Also, if there are any subdomains in the background used for developing particular applications, then that needs to be monitored frequently to avoid hackers using them for spamming.
Subdomain lying in the background would have a serious risk for the online business. Hackers from all around the world choose them as their entry point to the website. These doorway pages can be hacked using simple tricks. You should protect your assets by having a close eye on each page developed for the testing purpose.
A large size enterprise where multiple subdomains are created over time would have difficulty finding them manually. The good news is there are several tools available online that make the job easy. You will have a detailed list of the subdomains of your website when you use these tools. In the following, we will discuss how to know subdomain of a domain utilizing some best tools that run seamlessly.
If you aim to know about subdomain vs subdirectory SEO impacts, click on the link provided!
7 Best Subdomain Finder Tools
1) DNS Dumpster
DNS Dumpster is the research tool developed to provide hosting information of the domain name. It doesn't only find subdomain of a domain, but you can also check all vital information such as IP address, hosting location, server details, NS records, MX records, TXT records, and etc.
If you aim to know what is .htaccess in PHP , check this article out!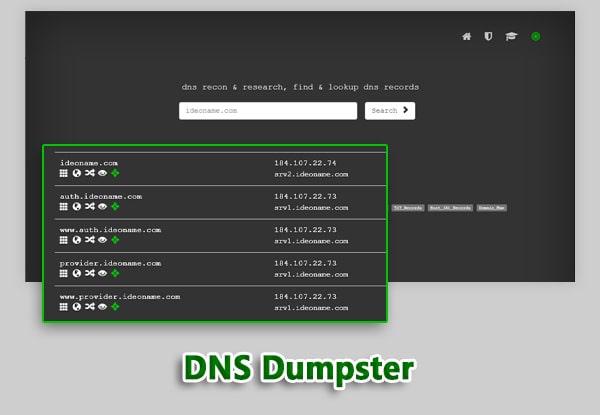 2) Spyse
Spyse is one of the best tools that provides research reports using the search engine. You can easily find all subdomain records for a domain using the tool with the free search option.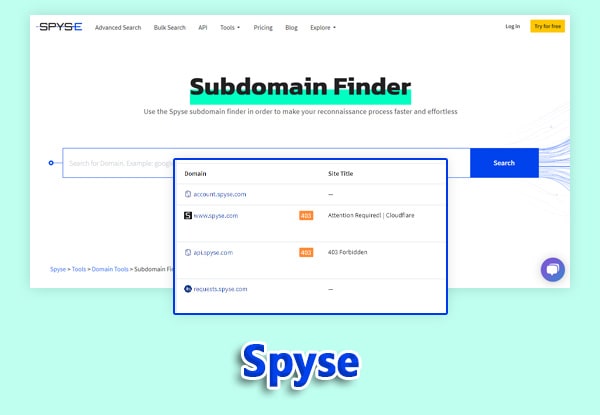 3) Nmmapper
NMMAPPER is one of the popular subdomains lookup tools that offer a comprehensive report of the domain name. Get the information about Anubix, Amass, DNScan, and Lepus using this tool.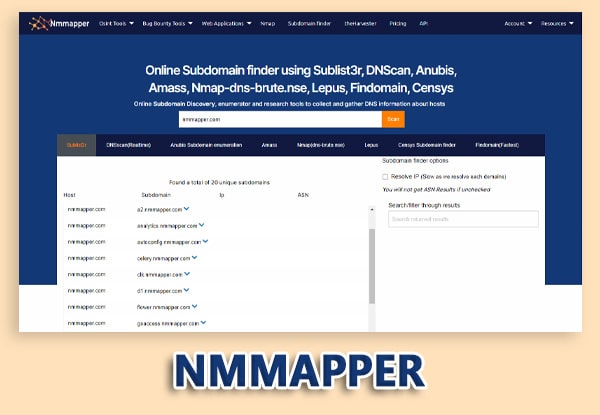 4) Sublist3r
Find a list of subdomains with the help of Sublist3r. It is developed using the popular Python programming language. Sublist3r supports major search engines such as Google, Yahoo, Bing, Ask, etc to collect the information. However, it may require technical knowledge to install and set up the application on your desktop computer. Once it is set up, it runs seamlessly.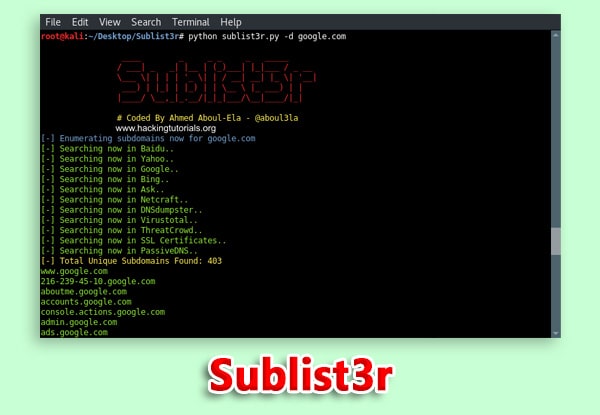 5) ImmuniWeb
Now find any subdomain using the ImmuniWeb subdomains lookup tool. It offers the SSL scan features for the security search. Submit the URL in the search box, and the application will scan the website and provide you a comprehensive report in a few seconds.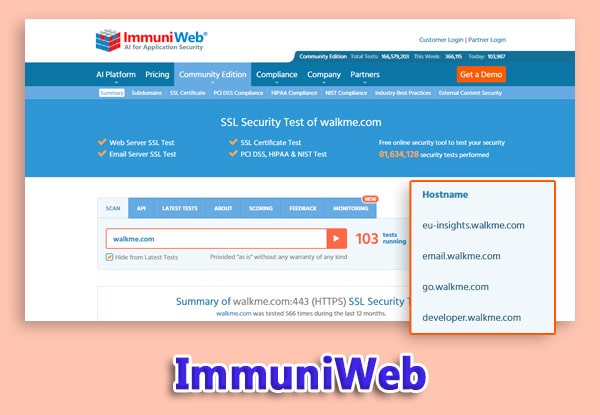 6) Netcraft
Netcraft subdomain scanner tools are known for their extended domain database that provides instant results to the users about the domain name. Search any number of the domain to find the publically listed information of its subdomains.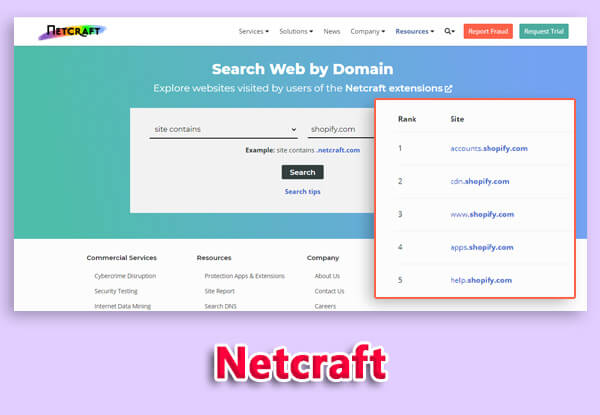 This tool provides information about the main domain, subdomains, first seen date, netblock, and OS information. For a comprehensive report, click on the site report, where you will find additional details of the servers and other vital information.
7) CloudPiercer
CloudPiercer is an advanced website subdomain finder tool available on the web that provides free service to the users. Find if the subdomain exists on your website. You can track other important information such as the origin of IP, exposed information, and server information to identify the loop-holes in the server.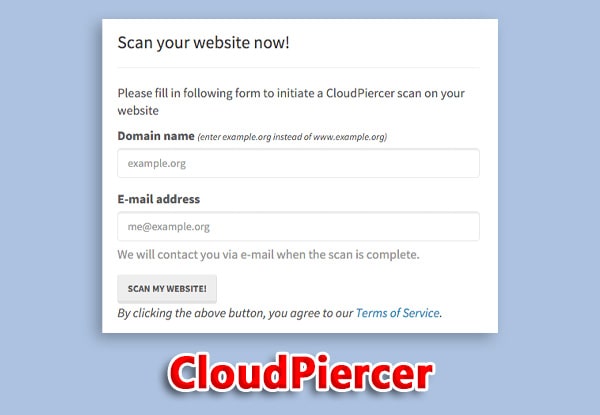 IP exposed to the hacker would create vulnerability on the server. Hackers can use the exposed IP for DDoS attacks. Use the CloudPiercer tools to detect the exposed data and available subdomain in the background to block them from hackers.
Why You Should Use Subdomain Scanner Tools?
These tools can perform as a lifesaver in the case of hacking. Any vulnerability to the business is harmful to its growth. Hackers generally attack the weak website that exposing crucial information online. It is an easy target for them as they do not have to penetrate the secure firewall server. The subdomain makes the entire website unrestricted for entrance. Your website details, such as credit card information and customer information can be stolen using the exposed subdomain. Therefore, you should track every subdomain available on the website and learn how to get all subdomains of a domain.
Either you use the tools to identify the ones incubating in the background, or if you have the access to your web hosting, go to the subdomain section and scan website for subdomains.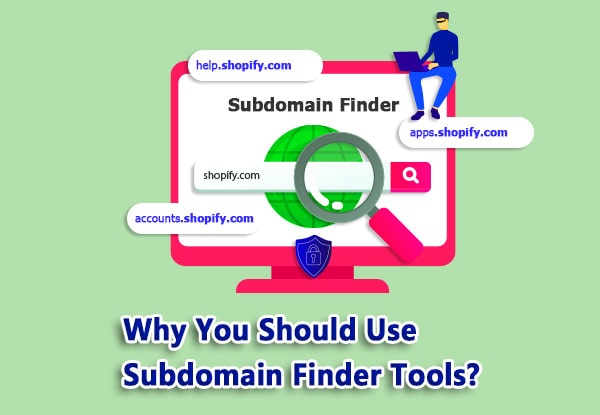 The ultimate goal to find subdomain from domain is to secure your website from hacking. The owner of the website must know what is happening on their website. If there is any expose data on the subdomain, it will catch the attention of the hackers. Even the auto bots run by several search engines would scan this information and make it public on the web. Anyone searching the name of the person would see the exposed personal information such as phone number, email ID, credit card details, password, and etc.
It would be a disaster for a company if they reveal the personal details of their customers on the web. So it is crucial to take action to avoid unforeseen events happening on your website. The database should be stored securely without any vulnerability from the subdomain. Even if you create a subdomain, make them hidden or password protected. If you want to make it live for indexing or browser access, ensure that it is properly configured and no one would have access to the core files on the server.
Using these tools makes the searching process easier. Tools are comfortable to use and provide in-depth information about your website. Additional data presented by them would be helpful to take further actions to protect your assets. These tools are free and do not require signing up for accessing their services. You can instantly browse their features and search for the required domain information online.
The aforementioned best subdomain finder tools work seamlessly without needing a prior setting. They would be a lifesaver if you use them correctly. Let your development team know that they should frequently use these tools to identify if any subdomain appearing in the background.
Frequently Asked Questions
How Do I Get a List of All Subdomains of a Domain?
There are some tools that you can use to find all subdomains online:
DNS Dumpster
Spyse
Nmmapper
Sublist3r
ImmuniWeb
Netcraft
CloudPiercer
In this article, we have explained how to discover all subdomains of a domain. Use these tools and discovery methods frequently and safeguard your assets. As we discussed earlier, subdomains make your website unrestricted for entrance, so important details, such as credit card information and customer personal details can be stolen using the exposed subdomain. Therefore, you have to always be aware of the existing subdomains to protect your website from hacking.