The difference between ccTLD vs gTLD is of great importance when you want to register your domain name and start your online business to engage with your customers. In this case, the first thing that comes to your mind is which one is better? There are two main categories into which top-level domains get classified, such as ccTLD and gTLD. Both of them have pros and cons and you should choose them based on your needs and type of audience. In this article, we explain what is ccTLD vs gTLD difference. Sneak out the complete write-up to know the relevant information about how each of these domain extensions can help your business to grow faster.
Generic Top-Level Domain (gTLD)
When clarifying the difference between gTLDs vs ccTLDs, we have to explain more about the gTLDs first. gTLD domains are the most common ones used while making online searches by most users. The majority of the web content comes under this type of domain. It is easily recognizable, organized, and highly optimized. As per a survey from 2018, there are almost 1.8 billion web addresses online, and the majority of those contain gTLD domains.
Domain.com is a primary web address that every user needs for successful domain registration. But, the dot IP address varies into various components. Two prime components are: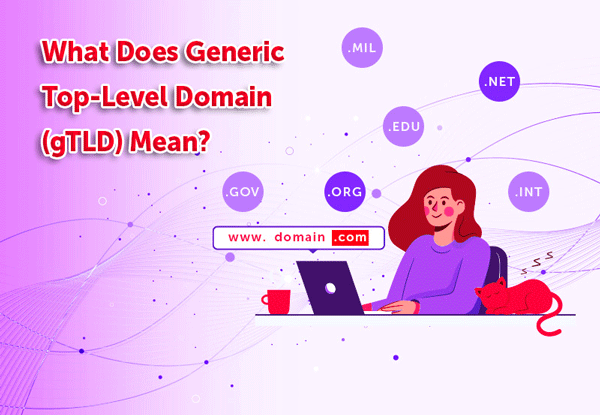 If you research a bit more, there are thousands of TLDs existing online, and the most common ones are known as a generic top-level domain. As per the term, generic is something that is not restricted to a specific country or territory. Everyone from different parts of the world can use them. It proves valuable to the individuals and the companies using them. It is the dot address used by the first generation users of the Internet for website development.
Another thing that worth mentioning is that the top seven gTLD domains existing since its start are:
If you are an internet user, you might have countered some or all of these domains sometime or the other. It is good to know that instead of using other obscure TLDs, gLTDs pertain to a premium value as they usually get better rankings on search engines. Every kind of these domain extension can be used for different kinds of websites based on their fundamental purpose. For example, the .com is a good choice for commercial companies, ".net" is more popular among companies that provide internet services, and ".org" is a suitable choice for nonprofit organizations.
To find out the best domain registrar for small business , click on the link provided.

Country Code Top-Level Domain (ccTLD)
ccTLD domain is the country-specific domain name that consists of a letter arriving after the final dot of the domain name, mostly based on their country codes. It focuses on the country, territory, or independent state registered under any website. For, e.g., "my" in www.eg.my is for Malaysia. This helps users to find the country with which the site relates to or talks about.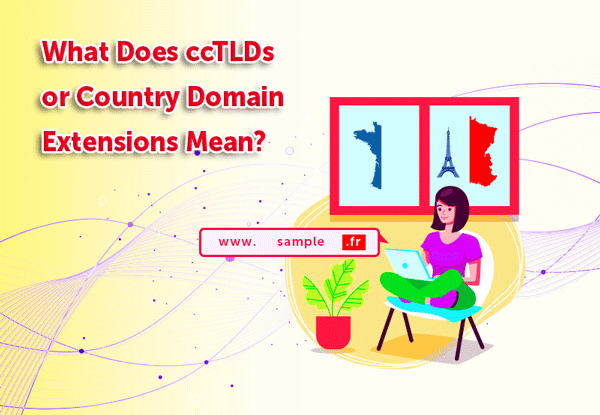 Few samples of ccTLD domains:
The use of non-Latin characters is also prominent in the internationalized country code top-level domains known as ccIDNS or IDN ccTLDs.
If you aim to know what is a cctld domain , click on the link provided!

What Is Difference Between gTLD and ccTLD?
We have to mention that gTLD domains provide easy access to the internet address. In contrast, buying the ccTLD domain is not simple. The ccTLD domain stands for the country code top-level domain and is very sensitive. It means only the authorized person or the government body can buy a domain name after fulfilling the legal procedure. The organization that owns the ccTLD domain name would be fully responsible for the content published on these websites.
When it comes to comparing gTLD vs ccTLD, it depends on your business aim at this matter, and also your objectives whether to use each of them. If you need to access only a specific country or location, a Country Code Top-Level Domain, ccTLD, would be good enough. But it is more suitable for your business. If you want to go off your business register a generic Top-Level Domain gTLD.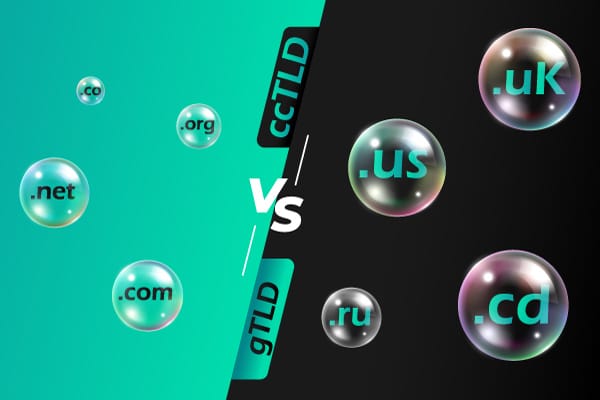 Identifying the ccTLD domain name is quite easy. Check for the extension of the domain name after the dot. The country code represents the name of the country. Moreover, it is part of the country, autonomous territory, or the sovereign state. If the domain has a ccTLD extension at the end of it, then it portrays the content published on the website as part of the specific geolocation.
For starting any web business, a domain name selection, purchase, and registration is the primary process. Hence, you need a top-level domain for sure. Now that you know what is ccTLD vs gTLD difference, the next step is to know which one suits your business best. In the following, we will mention what are some important things that you should take into consideration when making a decision between these two options available.
If you want to learn to check all subdomains of a domain easily, check this article out!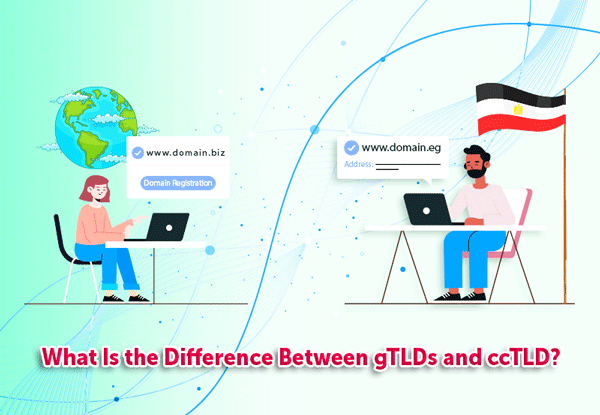 1) Your Company's Goals and Audience
Generic top-level domain (gTLD) goes beyond every geographic location or territory. It means the website user from any part of the world can register the domain name with gTLDs. A famous example of them is ".com" which is usually used for commercial companies, or ".edu" which is mostly used for educational institutions. Most commercial and global entities prefer this option as it generalizes and broadens their targeted users.
But country code top-level domain (ccTLD) adds the country code at the end of a web address such as ".sg" for Singapore and ".in" for India. While doing the registration process for ccTLDs, you might have to present the address proof as a part of security.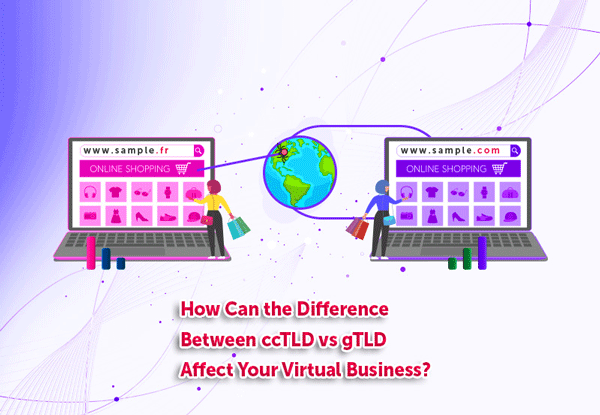 3) Cost
Depending on the provider you select and the country or users you target, there is also a cost difference between gTLDs and ccTLDs. In general, implementing ccTLDs may cost more than gTLDs in some cases; for example, if you want to target Australia as your target market and utilize a ccTLD for your domain name, it would cost a bit more. It is also good to know that the average price for registration yearly ranges from $2.99 to $9.99. Selecting the right domain name can secure your internet business for at least the next five years.
If you desire to find out when to use localized domains , click on the link provided!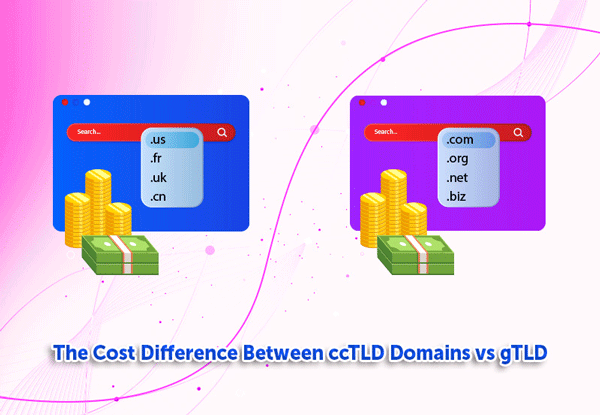 How To Choose the Right One?
To start an online business, we need to register a domain name for our website, it allows customers to engage with us online in a more comfortable and easier way. Before that, we have to choose a proper Top-Level Domain (TLD) for our online businesses. so, what is a TLD? A TLD refers to the last part of the domain name such as .com, .net, .org, .biz etc. There are generally two types of Top-Level Domains: Generic Top-Level Domains (gTLDs) and country code Top-Level Domains (ccTLDs) .

cctld vs gtld SEO Impacts
The ccTLD vs gTLD SEO impacts on your website is the next thing you Should take into consideration. Search engine crawlers perform SEO depending on the kind of website address you own. If you are registering with the gTLD, Google comes to know that you have a neutral website while the ccTLD emphasizes a location-based SEO.
If you search for any location-based services, it is evident that you would get results based on the ccTLD address. In other words, Google always tries to provide the most relevant results based on what a user searches. When someone is looking for a local service, websites that utilize ccTLDs, have an advantage and local people used to trust these websites more. Hence, based on the difference between ccTLD vs gTLD, for service-specific websites, ccTLD is a much preferable alternative and for international business expansion, gTLD is a better alternative.
Several trending domain service providers can help and guide you about which domain extension is suitable for your online business. You can also utilize a domain name generator to search for the best domain name. Research targeted keywords and find some close alternatives to the domain names.

Why Switching From Country Domains to an International Domain?
An international domain can help expand businesses to a universal audience by creating shopping experiences in local communications and local monetary status. If you used only one language and currency to target some customer from a specific country or region.

Why Might Switching From Country Domains to an International Domain Not Work?
If only one of your country domains had a precedent number of good links, but most of the other domains have been struggling to generate links in the market, chances are that a communal international domain won't help you. The cases we have studied where this kind of domain fusion worked out well had in shared that some of the different country domains already had a history and had decent link profiles in the markets.
Domain switching almost invariably will do some injure in short terms, emphatically if you merged your country domains into a completely new gTLD that hasn't been able to build up trust and relevance signal with Google yet. Domains switch always involve redirecting all URLs and also redirected URLs tend to lose some of their SEO performance.

Technical Advice for Migrating From Country Domains to an International gTLD
There are some advices and, as a matter of fact, some measures through which you can optimize your online accessibility and make your business more dexterous. In other words, the dexterousness of your website is related to take these simple tasks when switching your domain.
1. You Must Avoid Redirecting Chains
Because switching domains led us to all redirect rules that should be set up directly on the previous domain, and it has to be avoided to generate intermediate URLs, even when this is oftentimes the easiest way for the involved developers.
2. You Must Keep Your Old Domains and SSL Certificates
Because to switch domains, it is important for you to redirect all old URLs are generating organic search flux, so that you have external links pointing to them for your new domains. So as to maintain the redirects working regularly, you have to stay in control of your old domains, so that you should make sure to keep it registered.
3. You Must Update All External Links, at Least the Ones You Control
Another momentous task, when switching the domain, is to update all external links to your website which you control generally. This task includes all the social media profiles, all kinds of business listing you have access to, links of other websites you or your colleagues could edit etc. So, this is a good opportunity that a simple exchange can make our business more dexterous.

Frequently Asked Questions
Can ccTLD Domains Transfer gTLD Domain?
While most of the ccTLDs are content specific to a particular territory, few webmasters also use country codes like ".tv" as a generic address. As a result, after some time, the SERP would start recognizing the specific address as ccTLD's domain.
Final Words on ccTLD vs gTLD Differences
Deciding to enhance your online presence starts with choosing the right type of TLD for your domain name. So you have to decide what is the difference between gTLDs and ccTLDs, and figure out which one suits your needs and customers better. For more information click here .
A good web hosting company can also fetch you some reasonable deals for registration and yearly maintenance of your domain. After all, it is the virtual business address on which the success and revenue of your business depend. Evaluating the prospects of selecting the ccTLD or gTLD domain address closely can help in making the right choices!