Do you want to know how to change domain name for website holding it proudly for quite a long time? Changing the domain name is like modifying or shifting your web address. Is the new one as easy and recognizable for users as the new one? Keep reading to get quick answers to all these questions.
Many reasons make you switch to a new and unique domain name. At the time of domain registration, you might not be able to get the dream domain address that is now available. Or you might wish for a website rebranding with a fresh new look? Whatever be the reason, you would never want that the website rebranding affects the user flow and visits to your blog or site. Isn't it? So it is vital to know how to change existing domain name step by step.
Why To Change Domain Name?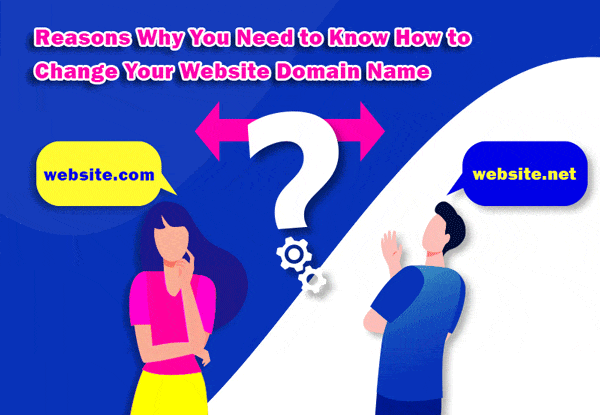 Several reasons persuade you to modify or change domain name after purchase. Not getting satisfactory site clicks or general feedback from the existing user base might be amongst the top reasons. You can get several benefits with a change of domain name. If the initial domain address was a bit complex, you can recreate a simple one and give a fresh touch to your business. Hence, this makes the new option more apt for promotion and targeting new customers.
For achieving the best results, it would be a good idea to check domain name rules and regulations in order to get familiar with these rules.
Business Rebranding
Change in the nature of business or modification of agency name might be the reason for knowing more about how to change domain name. If you have lost the last company or entity, you then require a new brand image for which establishing a new domain name is vital. Sometimes, it takes a few months or years to understand the nature of internet business, and then you might click a better option for the domain name change. Overhauling a fresh design is also a great idea to make you look new always!

Business Relocation
How can the physical business shifting affect your domain name change? Well, if you have a base in Canada and have the domain name ending with .ca, it means the SERPs would target the audience for that particular territory. However, shifting to the US would require a domain ending with .us to make it recognizable in that locality. If you own a ccTLD (country code top-level domain), then re-shuffling the domain name is vital.
Change the Extension
Even the process of changing your domain extension can be a domain change. For example, you might come across the need to buy a .com domain extension, but it might not be available for your budget. This is where you can go for an alternate domain extension and start your business. When you have some cash to spend, you can buy the .com domain extension. This would be a domain change.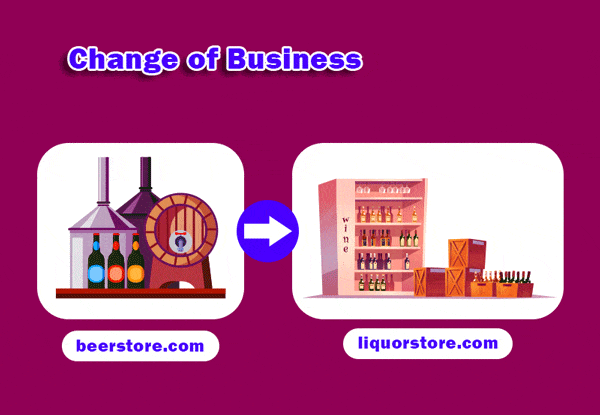 If you are a selling or distribution agency of beer, then you would have a domain name something as bellybeer.co.ca. Now, after years of expertise in this area, you want to expand the business and enter the sale of the entire liquor connoisseur, then your domain name is not apt to promote all products. At such a stage, you need to know how to change a website domain name.
Long-Awaited Dream Domain Is Now Available
Another reason that makes learning how to change domain name advisable, is when you were waiting for quite a long time to grab the favorite domain name. Is it now out for purchase? When you want to change website name, you also need to alter the URL as per the requirement. Now, you have a bright opportunity for registration with your favorite domain name that is futuristic, simple, and catchy!
Here are other reasons why you should consider changing your website domain name:
Your current domain doesn't fit your business. We are living in an updating environment where huge industries may shift and pursue a different goal, hence your domain may no longer be functional and it couldn't continue to represent your business in the marketplace.
Your current domain name might not set the right tone which suits your business goals, if so you may want to reconsider your domain name tone.
Maybe your domain name doesn't have the proper tools to get the attraction. It might have too many hyphens or numbers which makes it hard to remember and this is going to cost you, if people can't remember your domain name they certainly can't get to your website.
Hint: You should make sure that your chosen domain name passes the radio test. Meaning that if anyone gets to hear your domain on the radio and never gets the chance to see it in print, will they be able to make it to your website?
You might have a change of heart and decide to rename your brand. In that case, your current domain could not serve your purpose any longer. You need to know that maintaining the uniformity of your brand is key for business expansion.
Maybe you have problems keeping up with your domain name extensions and decide to use a cheaper one. You might have purchased a cheaper domain at first and now that you have saved up enough money you
willing to get the domain name you desired initially.
If you are interested to know about different domain types , don't miss this post!
Things To Do Before Changing Your Domain Name
You have two ways of changing a domain name, you could change the domain and all the accessory links at once or you could update each section of the website at a time. Either way, can influence your SEO strategy and might have consequences.
Here you can find a checklist of what you need to do after changing domain name:
Create redirects and hold on to them for at least three months
You need to update Google Search Console and Google Analytics with your new domain name
Evaluate the internal links that'll need an update after you're done with the operation
Evaluate all backlinks and third parties that you need to notify about the new domain name
Make sure of updating your website design as well as your professional email address and email signature
You need to think about your plan for email communicating and pop-up messaging to notify the users about the new domain
Make sure to set a 301 redirect so that users who try your former domain could reach your new one.
If you want to know what is a premium domain ? , this post can help you!
How To Change Domain Name?
One of the common questions among users is "can you change a domain name after purchasing it?". In the following, we are going to guide you on how to do it step by step.
Step1: Choosing a New Domain Name and Assigning It to Your Website
Although choosing a domain name is pretty much a personal thing but you need to make sure to add relevant keywords to your domain and try your best to keep it brief and simple to increase your domain name's memorability. When you make your decision then you can register your domain name through domain registrars and assign it to your current website.
Step 2: Reconsidering Your Website's Design
Based on your new domain name choice, you might need to do some design changes to your website to reflect the new domain name. your logo will most probably need an update, also every other element that is representing your former domain needs to change.
Here are some other website elements that might imply the previous domain name:
The about page of a website
The website's footer that has the copyright information
The website' tagline, which appears on the browser's tab
Making these changes might seem frustrating but it's not complicated at all. After making the necessary changes you'll need to make your visitors aware of them, so they would know about your new domain name and the updates you're making.
Step 3: Redirecting the Traffic to the New Domain Name
Redirecting your uses from the old domain to the new one could probably be the most important step of the whole operation. Most of the focus on this step comes from the fact that after redirection you won't lose any user who used to visit your website regularly or a user who has bookmarked you.
Step 4: Fill in the Users About Your New Rebranding
At this point, you should have a new functional domain name and the only thing left to do is to make sure that users follow your website's updates such as your new URL, etc.
Here we recommend three ways of breaking the news about the new changes you've made:
Adding an explanatory post as soon as you're done rebranding your website.
Using the website's social media accounts to fill in the updates with your followers.
Sending out an email campaign explaining the new changes and rebranding process.
if you have a wordpress site you can read our article about " transfer WordPress site to new domain."
Risks of Changing a Domain Name
Risk is an inevitable part of starting a business still, it's not an excuse to make your business vulnerable to any more risks that aren't necessary. Changing your domain could indeed boost up your business, but it's important to mention that it comes with its fair share of risks. Read on to find out more about the possible risks of domain name changing.
Waste of Time and Money
If you're eager to waste time and money you can give changing your domain a try and go through the whole process simply because you don't like the name and demand a change.
Although primary domain name registration might not be expensive, some premium domain names could cost you a good sum of money. Generally speaking, changing a domain just for the sake of having a change can be a total waste of money as you can invest the money in other aspects of the business.
Losing Traffic and Search Ranking
Loss of traffic and search ranking is potentially the biggest risk your going to face after changing a domain name. there is a possibility that this might happen but there always will be some ways to lower and handle these risks. After changing your website's domain name search engines will rescan and re-index the website.
There is no exact time frame for this operation so you might endure lower traffic for some time. Domain name age could help you with this situation as it is an SEO ranking factor, older domain names will be given more credence and have a better ranking. Hence you might consider not using your purchased domain name for a while, doing so might not save you a better ranking but it could mitigate the risks of damaging your ranking.
Another recommendation is to purchase a premium domain name as they tend to be brief, memorable, keyword-rich, and even better since they've been registered before they might have a history of search traffic. If you decided to try a premium domain name you can use domain history tools to dig some information about the domain's history if it ever dealt with black hat SEO practices, spam, etc.
Losing Brand Awareness
If you happen to have loads of direct traffic website visitors, who type in your domain name into the browser to get to your website directly. There is a good chance you might lose these users, as they try to type your domain and fail to reach your website they might think you've gone offline for good. The best solution to this problem could be the implementation of a 301 redirect from your old domain to the new one. It might be helpful to set a message or pop-up on your website about the new domain to make sure every user notices the new updates.
Losing Backlinks and Search Traffic
Backlinks are links on third party website which will redirect users to your site, backlinks are a fundamental part of a smart SEO strategy. If you have invested or spent a lot of time building backlinks, changing a domain name will ruin your investment and effort. You could always contact the third party and negotiate about building new backlinks with the new domain or you could start your whole SEO strategy from scratch based on the new domain.
How Long Is the Process?
You're probably wondering how long will it take to change your domain name, well the time frame is completely based on each stage of the operation.
You might consider choosing a domain name from the available website names, before doing so it may be helpful to take a look at domain name prices.
Technically speaking about backups, depending on your preferred way of taking a backup it might take a while to handle the process.
Based on your circumstances Google will take some time to unite the old signals to your new website. There is no exact time frame for that but it may take from two months to 6 months.
How Much Will It Cost To Change a Domain Name?
The answer relatively depends on your budget and plan for changing a domain name, as you need to dedicate a budget for website developers/designers, marketers, and copywriters as well.
Things to Consider While Changing the Domain Name
Here's some expert advice on what type of new domain should you prefer when you want to change domain name after purchase.
Use our easy-to-use domain name generator tool which can help you get suggestions of trending domain names and inspire you to pick the best options.
Follow these tips for being a smart domain name changer:
1. Be a Game-Changer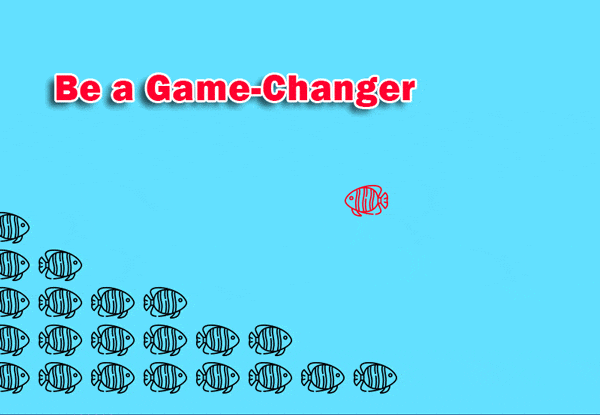 The first tip we are going to mention when you decide to learn how to rename a domain is that if you are a new-age millennial and have some out-of-the-box plans for the selection of domain names, try your luck with them. Moreover, your URL is your identity, and it must reflect the type of business you hold or the services you are sharing. Bring out the words and ideas to create a perfect website URL!
If you desire to find out when to use localized domains , please click on the link provided!
2. Brand Description
When you want to know how to change domain name, brainstorm your minds towards apt product branding! Keep thinking about what's your actual aim and perceive the user approach to bring out the best. Concentrate on focus text like common and eye-striking phrases or words.
3. Don't Overdo the Length
Another important tip to remember when you aim to know how to edit domain name is that keeping a crisp and short domain name makes it easier for the users to recall it. Marketing a small phrase or a few words is far more feasible than promoting big names. It should not be wordy or prolix as it nurtures brand recognition to another level.
If you aim to know about the domain registrar , check this article out!
4. Verify the Legitimacy
If you want to learn how to change your website domain name, choosing a dodgy domain name that might come under Google's red list is of no use. Instead, utilize websites like SEMrush and Ahrefs to review the website traffic and visibility of the desired URL or keywords. Review the spammed backlinks and ask your web hosting company to evaluate the Google search console and find if there are any existing manual penalties.

How to Take a Website Back Up?
How to change a domain name from an existing website to a new one and make sure that no data loss will happen? It is advisable to take a website backup. This would prevent any loss of valuable data flashing on your existing URL.
Taking a backup could be the most logical thing to do while changing a domain name, as you do not want to lose the whole data and make everything harder for yourself.
Based on your website service, you'll have alternative ways of getting a backup:
Manual backup which is the most low-tech option
cPanel backup is not a complicated process at all, but you'll need to avoid some pitfalls.
Backing up to a cloud could be your most reliable option as the cloud is an ever-expanding environment.
Rsync back-up, Rsync is an application that enables you to copy files from one server to another.
What About a Site Audit?
For a successful SEO, after you change domain name, you need to carry out a detailed site audit. It can help you with a thorough website understanding. Go for:
1) Content Audit
You have to be meticulous about your website's needs after changing a domain name. it could be a change of passion and starting a new business or you might have changed your focus to other aspects either way older articles are no longer relevant. Try not to rush things take it slow and do a lot of research to help you move forward with your new updates.
2) Web Design Audit
You need to check on your new updates such as your new logo, new website background color, every design-related accessory needs to be ready. doesn't matter if have checked on them before it won't hurt to double-check.
3) Tag and Counters Audit
You need to set up Facebook pixels, Google Tag Manager, Google Analytics, and basically, everything you could track, measure, or analyze because your website is going to get looked at so you better set it up correctly. To avoid data loss you might consider transferring the old counters to your new site.
4) Verify Contact Details
You want to make sure your website visitors could reach you, so you better set up email contact details with your new domain name.
For more information about how to find hidden pages on a website , check this article out!
How to Secure Existing Website Traffic?
After learning how to change your website domain name, the biggest concern is to secure the website traffic and retrieving the organic search traffic as it is. For this, you can:
Prepare a Sitemap and Start 301 Redirects
Sitemaps represent the internal structure of a website and they direct the search engines to navigate the pages of your website. Once you have built sitemaps for both your old and new websites you can make arrangements so that the old pages point to the organized new ones with the help of 301 redirects. This permanent tool will redirect the visitors who are trying your older domain name to your new URL. Important to mention that this process does count for SEO ranking as it'll help you get your website indexed by Google and also keep your users content.
Optimize the Use of Address Tool
You can connect your old and new website names using the change of address tools. These tools can help you notify Google about your website's chances.
Check Out for 404 Pages
You might have encountered a 'Page Not Found' page while internet surfing. This error happens when the correct URL of a website is missing, hence you can't reach the site. You need to check for your 404 pages and if you do have one make sure that they are redirected to your new URL. In this step, client communication is vital.
For more information about the meaning of ssl , check this article out!
Frequently Asked Questions
Is It Possible To Change Domain Name After Purchase?
Yes, you can rename your domain name using two different ways. You can change the name of your domain and all its related links at once or you can also decide to change one section of your site every single time. Keep in mind that you should update your professional email address to match the new name of your domain.
Is It Easy To Change Domain Name?
The process of editing your domain name can be done easily by following the steps mentioned. Keep in mind that you also have to make the process as easy as possible for your website's users.
Final Words
We mentioned how to change domain name steps in the previous sections. The entire process of learning how to edit your website domain name needs a reasonable amount of time as you need to keep the existing rankings untouched. Google also takes a while to capture the new site signals and start ranking them. You need a set of experienced marketers, designers, web developers, and copywriters for the project completion. It also takes an excellent investment to modify all aspects of your website.
For those in the initial stages of online business branding, a change of domain name is not a big concern. However, it's stake taking if you are old, established, and taking risks. A meticulous check through every page is then required for keeping the traffic and ranks intact. Learn how to change your domain name, the risks of changing your domain name, go slow to avoid any turmoil on the future domain name change, and seek expert support if required! For more information click here .