If you are entering the lucrative world of online business, you need a catchy domain name for the startup. But how to buy a domain name? There might be several questions running across your mind, and here is the perfect guide to help you on the same. Domain registration is no tedious process wherein you need to involve in any significant fuss. You just have to follow a few steps and start up with a profitable website or blog immediately.
It's important to help clients look forward to a pure and simple web address for their sites. It will become the security of a brand for years to come. But before registering a domain name, it's essential to ensure it meets a client's needs over the long run.
Remember on a basic level and since the Internet's addressing scheme is not very effective without domain names, so they are very important. In fact, domain names are much more than just a technical shortcut. A memorable and short domain name can make a huge difference between creating a successful online presence and getting lost in virtual reality.
Ways To Buy a Domain Name
You mustn't go to a dedicated registration host to purchase the domain name, by the wat. The best web hosting services, such as DreamHost, HostGator, and Hostwinds naturally have offered a registration function as a part of the sign-up procedure. Hosting services usually offer a free domain name when you sign up for a web hosting full-package. Below we suggest two simple ways to buy your domain name:
1- From a Standalone Domain Registrar
In some occasions, going directly to a domain registrar like Namecheap is the best step. As the name implies, this platform limit in domain registration.
To buy domains directly from a standalone registrar is a faster option than alternative methods. This is because you are not bundling other services, so the procedure is simpler.
Domain registrars make it easier buying domains in mass. So, if you were in the market for more than a single domain, go with a registrar definitely.
If you wanted an alternative extension, domain registrars offer more options. As long as we usually don't recommend anything other than .com domains, some of you might want to browse through hundreds of alternative to .com extensions.
2- From a Web Hosting Company
For the most part, domain registrations, and web hostings could be kept separately. Bluehost is the exception here. So, if we wanted to bundle our domain name with a hosting plan, Bluehost would be a really good alternative.
Firstly, for beginners getting everything under one umbrella is easier. Secondly, Bluehost gives you a free domain name in your first year. So, it is trivial that using this host has some good benefits, especially for novice people.
How To Buy a Domain Name Permanently?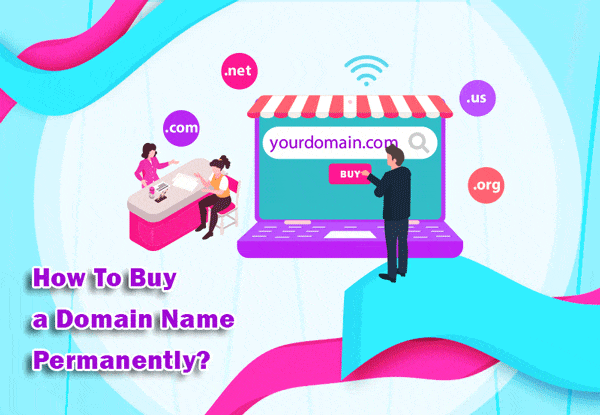 You can't purchase a domain name permanently, however, usually, a domain name registration is on a generally yearly basis. Although, you can pre-pay for up to 10 years which guarantees you will be a domain name owner for 10 years. There are a few small steps that you need to follow when you desire to learn how to get a domain name. Read below for them:
Go for a reliable domain registrar who is trustworthy and experienced
Use a domain availability checker tool for finding prospects
Run through a domain name search
Select the best alternative
Fix the order
Undergo a verification check for a new domain name
Finally, to register a domain name safely for yourself, it is important for you to be aware and use your common sense when purchasing on the internet. This is only a brief of how the entire process works. You need to read below to understand the details.
If you want to find the cheapest place to buy domain names , check out this article!
Where To Buy Domain Names Cheap?
One of the common questions that newbies ask is "how much should I pay for a domain name?". Cheaper domain names offer an easy way to get online without paying a hand and a foot for the name. It is important either you start a website for your business or just buying your kid's domain name for you to choose the best option. The right domain prepares the foundation for a great online shop or something similar, and an engaging online outwards.
With GoDaddy, you can register domains for as low as £0.71. You can even grab a free domain with one of the website hosting plans. It doesn't get any cheaper – or any better than that. In plain words, the cost is good. And if you are good at SEO, email marketing, and the rest of your online presence, the traffic and name recognition of your website can be as well.
Essential Tips Before Domain Name Registration
Before start learning how to register a website domain, going through an in-depth research process is also crucial. Your website is your virtual face, and your visitors take the first glance at it. Useful tips are as follows:
1. Carry Out Research
Understanding and evaluating your niche is of primary importance for any website holder. Doing a comparative study on trending keywords and finding a perfect domain name should be the priority.
In order to know more about the gtld meaning , click on the link provided.
2. Pick Catchy and Easy To Recall Domain Names
Selecting domain names that include a lot of technical jargon and are farcically long might be a significant error. At least, the visitors should be able to easily pronounce the domain name. For this, picking a crisp and meaningful domain name can work as an excellent promotional tactic to attract visitors.
3. .Com Is the Best Option
In the present scenario; .com is the ideal domain name extension. Most website users prefer buying it as its purchasing process is easy and it's not hard to remember for the users.
In order to know what is TLD top-level domain name, please click on the link provided.
4. Verify the Trademark Infringement
The next rule in learning how to buy a domain name is to search for trademark information to avoid legal jeopardies.
5. Don't Complicate With Hyphens and Numbers
Many people make the mistake of creating a domain name with hyphens and numbers as it facilitates higher variations. But, it might confuse the users, and hence skipping the use of hyphens or numbers is a good idea.
To find out the answer to the question " do dashes in domain name hurt SEO ", check this article out!
6. Choose Wisely
While planning on buying a domain name for someone, look for some mistyped variations which are close to a competitor site. It accelerates your chances of higher traffic reaching your location.
7. Social Media Is a Big Game
After creating a rough draft of the domain name, make research on popular social media platforms to check its popularity. Reserve your project through a page on YouTube, Twitter or Facebook so that no one else copy's your idea.
8. Discuss With Experienced Ones
In case you are unsure about the process, it is advisable to seek help from close colleagues or friends. Who knows, random wise advice can dig a golden nugget for you.
9. Be Futuristic
Buying domains or websites can be a long-term investment. Thus, do not pick something which is overhyped and instead look out for some unique ideas.
If you aim to know more about basic rules for domain names , check this article out!
How Do I Permanently Buy a Domain Name?
After you made up your mind and fixed up an immensely catchy domain name, the next step is to buy it. Here are five steps on how to get a domain name for a website:
Step 1- Search for a Domain Checker
The process of purchasing a suitable domain starts by looking for its availability. You need a useful tool or a service provider for this purpose. If the domain name decided by you already exists, try it with another extension. For example, .com is not available; you can pick extensions such as .net, .org or XYZ. Add simple words such as "my", "the" or "best" that can help you qualify for registration. Buy it from an existing owner by paying them a reasonable sum of money.
If you want to find out the answer to the common question of " which domain suffix is most frequently used by businesses ", click on the link provided!
Step 2- Run Searches for a Desirable Domain Name
The second step in learning how to buy a domain name is to enter the relevant field and desired name of the domain to take a spin. Use a domain checker tool and sneak through the available alternatives for registration. Make use of the domain extension filter and make searches for the exact extension required by you. In order to check the country domain list , please check the link provided.
Step 3- Select the Domain
After you fix up the name, move ahead to the registration process with the 'Add to Cart' option. If you are sure about the character, proceed to the checkout option and make payment for the complete transaction.
In order to learn how to implement multiple domains seo , check the link provided!
Step 4- Make Payment
After completion of domain payment, you can move towards the control panel. There you can spot a setup box for the final stage of registration.
Even if you wish to make any alterations in the domain ownership, you need to visit the management section. After making changes, you will be sent a confirmation through email. However, it might take 1-2 days for the confirmation of databases.
Step 5- Verification Process
The final step of learning how to buy a domain name is to verify the domain ownership using an email address. Within a few minutes after the completion of domain setup, you can get the verification code for confirmation.
How Much Does a Domain Name Cost?
This is a common question concerning domains' names that how much does it cost? And also some users ask another related question: if possession of this name after I bought it completely mine or not?
In these regards, we must know that there is a wide range of expenses or prices.
However, you couldn't say that you know how to buy a domain name if you didn't know where to get on with the best prices. There are some websites through which you can find out the best chooses. In other words, the plan of registering domains' names is really resembling buying some real estate on the Internet. So, different extensions have various costs. For instance, a domain name with a .com extension has a higher rate of purchase in comparison to a domain in the .fun extension.
To answer the other question we need to know that a domain's possessions are not an eternal fact under any circumstances.
This is not inevitably the case. Be necessarily certain to research what you're getting before you buy. The contract you sign with the registrar could affect you in several different ways.
Many registrars reserve the right to abrogate your domain name for specific reasons, typically if you use the domain for illegal aims or bad words and deeds which are unacceptable. Surprisingly, many contracts maintain a clause letting the registrar delete your domain's name for no obvious reason. The implication, of leaning, is simply because the domain's name is the registrar's not yours.
Moreover, functionally all registrars reserve the right to make difference to the registration contract whenever they wish and without letting you know. The point is that every registrar needs to be checked out masterfully.
How to Register a Domain Name for Free?
This is a fact that if you didn't pay for a product you yourself are the product. Based on this strategy, this is a type of hosting service that they will offer some free domain name if you sign up for a web package in regard to hosting.
Many companies give you free domain names, as they profit from you. For instance, some web hosting companies give away a free domain name to the customer who hosts his website with them. The price of the domain name is then reimbursed from the fee.
However, you must note that a free domain name is usually free just for one or two years, and after that, the registrar will bill you for the cancel or biennial fee. In plain language, the providers of free domains' names pay just for the first billing to the registrar. Moreover, keep in mind that whether or not the provider charges a fee for setting up a domain's name. Most services offer to transition an existing domain name to the servers at no price, but sometimes you'll find a setup fee at the top of the registrar's fee.
Besides the method above, here is another exploration of some of the other methods:
a) Free ccTLDs
There are some Hosting services that offer some free domain name, only if you use a specific TLD (top level domain).
b) Earning Your Domain as an Affiliate
Some domain registrars allow you to earn your domain name by referring to the other customers. While there is nothing inborn wrong with this, it is probably more inconvenience than it's worth.
c) Using a Free Subdomain
Lots of free websites builders and services like WordPress.com provide your with a free subdomain like 'yourwebsite.wordpress.com'. This is a good alternative to a real and independent domain which you should pay for it.
There are a few reasons for avoiding this. Firstly, it shows that you do not own your domain name, WordPress (or whichever you build your website with) does.
Second, it looked unprofessional, and also is a bit complicated for people to remember the name.
After all, you are limited to using the website builder platform that gives you the sub-domain. Oftentimes, a free website builder is highly-restricted, hence this makes a real problem growing your website's audience.
To sum up, as it is a simple question with a simple answer: If you want free domains, and don't want to pay the cost further down the line, you're best off getting one free with your hosting.
We highly recommend avoiding any offer which save you $10/year in exchange for giving up control over your website. In the long term, it costs you much more in time, energy, and your coins.
If you know of some other method of registration domain name without trade-off your website, please share them with us. However, if you have any thought on it or of some points above, please feel free to ask.
Frequently Asked Questions
Is It Worth It To Buy a Domain Name?
What are the advantages of having your own domain name? Learning how to buy a website domain helps you gain control of what people see when they search for you. Also, a domain name can add trustworthiness to your business and makes your company look professional.
Can I Buy Domain From GoDaddy and Host Elsewhere?
Yes, this is somehow possible. GoDaddy is simply a domain registrar, however, they do offer hosting but you do not need it. After all, registering domain names that you would only set the name servers to point to your other hosting provider.
Can I Buy Domain Name Without Hosting?
Yes, you can do that. Buy a domain name without hosting is a regular doing among users. You needn't a hosting provider to register your domain name. If your prefer domain name is available, you can buy it with the fee and registering it with a domain registrar.
Is Buying a Domain a One Time Purchase?
No, this is not a long-life purchase. You must reregister your name by paying the fee anniversary or monthly.
Final Words
In the above guide, you might have got all answers to how to buy a domain name. Although there is no big rocket science in its purchase, the selection of the right extension becomes a crucial decision. After you undergo the entire process as per the steps stated above and finally verified the ownership of the new domain, the new website world awaits you. Hopefully, this tutorial would also work for beginners aspiring to learn how to purchase a domain name for a website, create their blog, or mark a journey in this arena!